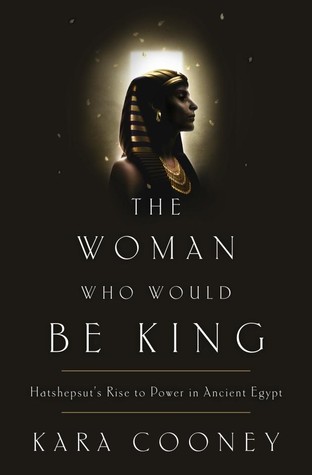 Title: The Woman Who Would Be King: Hatshepsut's Rise to Power in Ancient Egypt
Author: Kara Cooney
Release Date: October 14, 2014
Publisher: Crown Publishing
Genre: Non-Fiction, History
Source: LibraryThing
Let me say, Hatshepsut should have had Cleopatra's publicist. She needs the press that Cleo has received throughout the years. Not to tear Cleopatra down at all. They both are deserving of the attention so Cleo should have shared. There is not nearly enough out there about Hatshepsut. I vaguely knew her as a ruler who had her statues and such destroyed by the pharaoh after her. No details of her rise to rule or her reign.
I have a keen interest in Ancient Egypt. I have been since 6th grade and reading The Golden Goblet by Eloise Jarvis McGraw and learning the ways of the Egyptians.  I even went on to read McGraw's other book on Egypt Mara, Daughter of the Nile. Through the years I have picked up a few Cleopatra historical fictions, glanced at a few non fiction books about the era, but somehow missed the deets on King Hatshepsut. Recently I did a little unintentional theme reading when I started a historical fiction about Cleopatra's daughter then was recommended a book based on Hatshepsut Daughter of the Nile by Stephanie Thornton. After I finished that, I realized I'd had another series on my e-reader by L.M. Ironside that focused on Hatshepsut's life before and even after her rule. Then The Woman Who Would Be King showed up on my radar. It was kismet.
In The Woman Who Would Be King Kara Cooney thoughtfully and meticulously lays out Hatshepsut's life and even what happens after her unprecedented rule. I felt like Cooney did a masterful job of painting what life might have been like for not only Hatshepsut, but the people who would have been around her and their relationships with her. Hatshepsut is not portrayed as manipulative or as completely selfless, but as a human being who was ambitious and from all accounts a shrewd ruler who had her faults. It is too bad there was not a lot of diary writing back in those days. It seemed the Egyptians weren't much for the drama parts of life because it would have been interesting to know more about not only her motivations, but also the motivations of the the people around her, like her steward, Senenmut; her daughter, Neferure; or her nephew Thutmose III. I usually consume non fiction as audiobooks and this one would have been perfect.