While it seems like a huge difference in genre, I found rotating my nonfiction titles with my urban fantasy worked out really well. I did get a few other genres in there (including bingeing most of Johanna Lindsey's Malory-Anderson series for the first time in 10 years), but I tried to clear both my physical and my digital shelves of their titles of truthiness and pages of paranormal snark and violence. I think I did pretty well.
Nonfiction
United: Thoughts on Finding Common Ground and Advancing the Common Good – Cory Booker. This man is such an optimist. I love it though and can't help be hopefully for everything he hopes to see in our country happen. I'm hoping Washington doesn't break him. I was super inspired by all that he's accomplished for Newark as mayor and now New Jersey as a senator. He has so many good ideas.
---
The Taliban Shuffle: Strange Days in Afghanistan and Pakistan – Kim Barker. I'm seriously bummed that Tina Fey seemed to screw the pooch with her movie adaptation of this woman's story. It didn't need to be embellished or have a love story added. I really enjoyed Barker's narrative about her experiences.
---
All the Single Ladies: Unmarried Women and the Rise of an Independent Nation – Rebecca Traitor. I'm a happily married woman, but I have a lot of lady friends who have to deal with the "When are you getting marrieds?" and the like. This book points out so many good facts. I think it's good to read by all women, no matter their marital status. I wanted to highlight and write on every page. My favorite was the chapter on female friendships.
---
Blackout: Remembering the Things I Drank to Forget – Sarah Hepola. Both uplifting and heartbreaking, I really enjoyed this memoir of a woman who has struggled with alcoholism in an age where we don't talk about it in young women, at least not young professional women. The stereotype that I've seen for women is lower income, middle aged, troubled. No one wants to point out even women who seem to have their shit together, could be struggling with it and not necessarily because they're unhappy and had a bad childhood as we see portrayed in media.
---
How to be a Tudor: A Dusk-to-Dawn Guide to Tudor Life – Ruth Goodman. I am a big fan of the Tudor era. I started with the historical fictions by Philippa Gregory and Alison Weir, I've touched on a few nonfictions, but Goodman's How to be A Tudor is fantastic. It follows both men and women of all classes from waking to bedtime in their daily routines. There is a lot of detail on how to get the perfect ruff. Yeah, that thing you saw around people's necks in the time of Elizabeth I.
---
Love, Loss, and What We Ate – Padma Lakshmi. I adored this book. I heard a lot of buzz and had to pick it up. If you've followed long enough, you know I love a good food memoir (<3 Julia). I didn't even know who Lakshmi was, but now I need to go back and binge Top Chef. I loved reading about her stories about growing up in India, her relationship and then marriage with Salman Rushdie, her experiences in modeling, and her love of her daughter. I really enjoyed how she talks about coming to accept her body after years of modeling and then the struggle of it changing due to filming Top Chef.
---
All About Love: New Visions – bell hooks. Wow. My first bell hooks book and I'm not disappointed. hooks talks all about the different ways we can bring love into our lives. There's even an essay on friendships that resonated with me. I'll admit I mostly skipped the last essay regarding love and angels, but otherwise I feel like I'm going to come back to this one. Now to get my own copy since this one was the library's.
Urban Fantasy
The Others series – Anne Bishop. Yes, the whole thing, starting with a reread of the first three books and ending with the newest Marked in Flesh. I love this series so much. I wish I could explain exactly why, but I can't. Not helpful for you guys so I'll try. A lot of the time (and in the following books I'll mention) the female protagonist is snarky and physical. Meg isn't these things. She's soft, vulnerable, and not the most physical character in the book, however, she's not weak by any means. She is able to answer the call in the face of danger. She's not perfect, she makes mistakes, but she's kind and apologizes when she's wrong. This series is also a play on the whole shapeshifter mythos as well. Instead of humans becoming animals, we have a swap here and even that is not exactly what they are or what they are doing.
---
Chaos Choreography (Incryptid, #5) – Seanan McGuire. The fifth book in McGuire's Incryptid series, we come back to the protagonist from the first book, Verity Price and her smoking hot ex-Covenant hubby Dominic, as Verity re-enters the world of televised dance competition where there is something creepy going on. I was thrilled to see Verity again, but totally didn't get enough of banter between her and Dominic. I also was hoping to see the whole Price family get to interact. Also Grandma Alice needs to go play cards with the Luidaeg from McGuire's other series.
---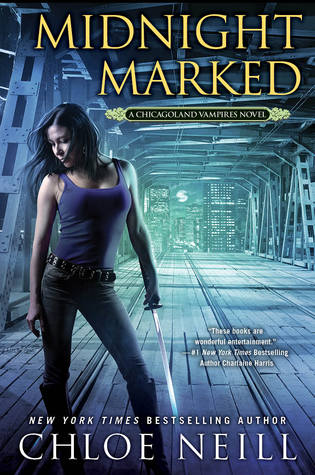 Midnight Marked (Chicagoland Vampires, #12) – Chloe Neill. I am a shipper of Ethan and Merit. They have highs and lows and work their business out, much like a healthy couple does, albeit they do it more with katanas and fangs, but to each their own. I'm a bit bummed this is the second to the last book in the series, but I'm also a proponent of end it while it's still good.

---
Midnight Taxi Tango (Bone Street Rumba, #2) – Daniel José Older. I might forgive him for giving me the creepy crawlies because this book was that good. I love his ability to voice a teenage girl with authenticity. Kia is my Patronus. Also that cover? Fucking gorgeous.
What did you read last month? Any nonfiction or urban fantasy?