March's book for the Ladies Read Speculative Fiction Book Club was Passenger (Passenger, #1) by Alexandra Bracken and April's book is The Fifth Season (The Broken Earth, #1) by N.K. Jemisin if you want to read along with us.
Here's what the Spec Fic Ladies loved this month.
Frozen in Time: An Epic Story of Survival and a Modern Quest for Lost Heroes of WWII by Mitchell Zuckoff. 
This book. Holy hell THIS BOOK. It's fantastic. I find that the term "gripping" tends to be overapplied, but it's accurate in this case. I read this out loud with my boyfriend, and we both choked up at several points while reading; this is an intense and occasionally heart-rending story, one which makes nothing seem so perfect as a quiet and ordinary life. There's plenty of laughter as well, and anyone with an appreciation for history – especially WWII history – or Arctic adventure will have a great time with this. Whole-heartedly and enthusiastically recommended.
– Anie 
---
The Vegetarian by Han Kang. It's the story of a woman who, after a lifetime of passive acquiescence, stops eating meat to the distress of her family. Short but fascinating, The Vegetarian is packed with rich and strange detail and no small amount of trauma. It's a testament to the power of a sparse writing style (not to mention a great translator). Highly recommended. – Clara
---
The Case for God by Karen Armstrong. Possibly the most important scholarly work of the present day, certainly one of the most important messages I've heard. Looking at religion as it has been practiced throughout the millennia brings contemporary spirituality into sharp contrast with its original purpose, context, and practice. The divisive literalism so prevalent in several sects today is apparently, for the most part, a very recent development and not part of their mainstream traditions. I found the epilogue alone to be worth the price of admission; it's a summation that brings home her point about looking to the past for the value of "unknowing" and the importance of practice to bring meaning to the mystery. My intellectual curiosity about religion has now warmed into a greater respect. – Juniper 
---
All the Single Ladies: Unmarried Women and the Rise of an Independent Nation by Rebecca Traister.  It's thought provoking and at this point in the book, I'm kind of shocked at how much I didn't know, and how recently  some of the rights we enjoy today were put into effect. Even more disturbing are some of the battles still going on today. I recommend reading, based on what I've read so far, if only to get a history lesson you don't learn about in school.  -Karly
---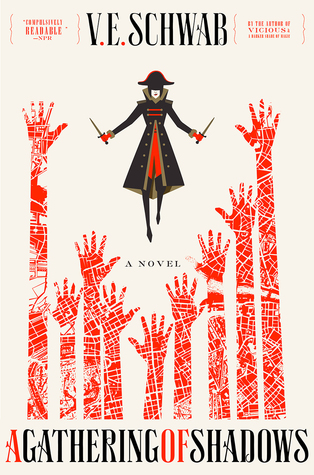 As for me, A Gathering of Shadows (A Darker Shade of  Magic, #2) by V.E. Schwab. So far, Schwab has set up a world that reminds me (in a good way) to Neil Gaiman's Neverwhere. The characters are flawed which makes them interesting. I love Lila, the now pirate thief (or is that thief pirate?) and her attitude. Then there's Kell with his loyalty to his brother which conflicts with his wish to be free of the situation he's in. The new characters add instead of congest the story which sometimes happens in ensemble narratives. 
What were your favorite reads last month?