Quick Review is a semi-regular feature of ARCs I'm loving. You should keep your eyes out for these! 
---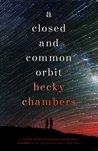 A Closed and Common Orbit by Becky Chambers
I loved The Long Way to a Small, Angry Planet so much. So I was a little wary (yet excited) for this installment. I say installment rather than sequel, because it felt more like a book that takes place in the world Chambers created than an actual continuation of the first book. I thought it was a great way to go. The theme of identity was well thought out and executed. I hope there will be more stories to follow.
Publication Date: March 14, 2017
Format: Digital ARC from Edelweiss