I got to do something that was a chance of a lifetime this summer. As we were moving from Santa Cruz to Pittsburgh, I was contacted by my former coworkers at Bookshop Santa Cruz. They had achieved the only West Coast appearance of Erin Morgenstern for her latest book The Starless Sea and would I be interested in interviewing her for their Winter Newsletter. The answer is obviously absolutely. Without further ado, I give you my interview with the amazing Erin Morgenstern. I also want to give credit to Jessica Harwick and Jax Dunn for helping me cultivate questions and just being generally awesome.
THE LITERARY MAGIC OF ERIN MORGENSTERN
by Karena Fagan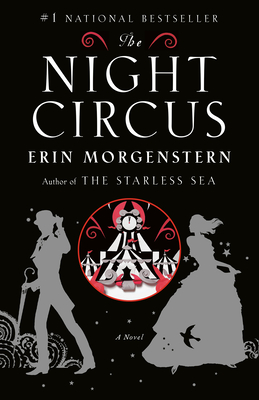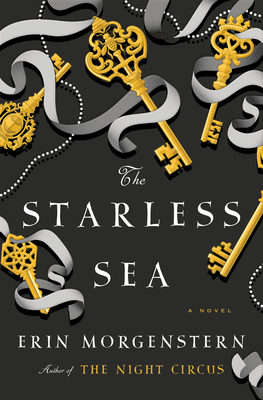 The publication of The Night Circus in 2011 arrived without warning and with it came Erin Morgenstern and a story of illusion, love, and friendship. Eight years later, Morgenstern brings us The Starless Sea, which follows a fortuneteller's son into subterranean libraries with mysterious people with dangerous secrets, and the kind of adventure that you can only find in stories. Morgenstern has a gift for creating worlds where every word is placed with purpose and every sentence is a feast for the senses. I reread The Night Circus every year, have a tattoo of Marco and Celia, and have two sibling French bulldogs named Widget and Poppet. I was lucky enough to be asked to interview Erin in preparation for her offsite event with Bookshop Santa Cruz on November 12th.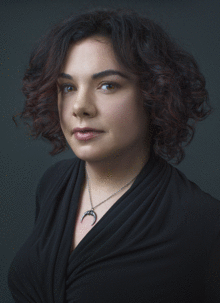 Karena Fagan: You use keys, bees, and swords as your principal symbols of the story. At what point did you decide to use allegory as a part of the fabric of the library?
Erin Morgenstern: Very early on I knew I wanted to use symbols of some sort because I wanted this book to have a strong visual language similarly but different to the way The Night Circus has its color scheme. Keys fit well with all the doors, and swords managed to feel both classic fairy tale and video game appropriate at the same time. I also really liked playing with the ideas of what all of these symbols meant or used to mean or didn't mean and all the layers of possibilities in between. I knew I wanted an animal symbol, preferably something that felt a bit ancient, and when I was first working I kept encountering bees everywhere. A friend of mine sent me a "mystery" Squishable stuffed animal that turned out to be a bee. A honeybee flew through an open window in my Manhattan apartment. They made it clear that they wanted to be in the book.
KF: Video games are a huge part of the novel. How did you decide to make Zachary a game theory major?
EM: I always wanted it to be a story that felt old and new at the same time and at first I'd assumed that Zachary was an English major spending his January reading, but it never felt right. I remember it hit me in the middle of playing something (probably Dragon Age) that one could probably get advanced degrees in video game study now, something that hadn't occurred to me because I was in college 20 years ago. It felt like the perfect story-related field to put him in.
KF: What is your favorite cocktail, and why did you choose the Sidecar for Zachary?
EM: I have several favorite cocktails, though I am quite partial to a Last Word or a Bee's Knees because I tend to be a gin baby. Slightly dressed-up gin and tonics are my go-to when I'm feeling too lazy for mixing. For Zachary, though, I wanted something a little more fall/winter appropriate and in that time of year I tend to move in a bourbon/cognac direction. I wanted him to have that drink he orders when there's nothing else to order, something classic that most if not all bars could manage. A comfort cocktail that tastes familiar no matter where you're drinking it. (Side note: The only sugared rim I've had on a Sidecar that didn't completely annoy me was once when the bartender only sugared half the rim so you could control the amount of sugar per sip.)
KF: You mention a lot of real life titles (e.g., The Catcher in the Rye) in The Starless Sea, which makes sense since it's a book about books. Is there any significance to the specific titles or were they chosen at random?
EM: Most of the references are to particular favorites of mine or things that felt suitable. Some of Zachary's choices are books I thought he might pick up in the winter for catching up on things he'd been meaning to read or somehow never read before, like The Catcher in the Rye. Dorian got my complicated feelings about Donna Tartt novels.
KF: There's been a lot of talk about fantasy as a genre breaking into mainstream culture. Why do you think that is, and why are we hungry for the fantastical?
EM: I think people have probably always been hungry for the fantastical but there's greater access to it now. I think a lot of it probably has to do with the advent of the internet, where even niche interests can find wider communities. I also think there seems to be less of a stigma around carrying childhood interests over into adulthood and I think that can range from video games and toy collecting to fairy tales and cosplay and beyond.I dislike using the word "escapism," which gets thrown around so much about the fantastical, but I do think the world is going through a lot of horrible things right now and it can be refreshing and comforting to imagine other worlds and other stories and even other problems beyond the ones we're faced with day to day.
KF: You've said that you thought you were writing a book about books, but that you actually wrote a book about stories. What's the difference to you, and why is it an important distinction?
EM: Early on I started to expand the scope beyond books. Part of it was pulling in the video game element, but also so much is fairy tale/myth inspired that I started thinking more about retellings and different versions of stories, which I think is my primary distinction: A book is a fixed story, but a story itself is a malleable thing. ¶
Former Bookshop Santa Cruz bookseller Karena Fagan lives in Pittsburgh with her family and is in a non-monogamous relationship with Speculative Fiction, Romance, and Feminist manifestos. Snarky heroines are her weakness. You can find her at theunread.net.
You can find the interview also here on Bookshop Santa Cruz's website.